Active fire detection with Sentinel-3 SLSTR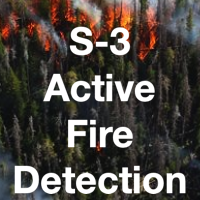 Active fire detection with Sentinel-3 SLSTR
This service takes as input a Sentinel-3 SLSTR L1 acquisition and generates maps of the identified hot spots with Sentinel-3 cloud mask and CCI Global Land Cover. For input Sentinel-3 acquisitions on descending orbits it also generates RGB reflectances and hot spots maps.
EO sources supported
Output specifications
Hot spots map
RGB reflectances (DESCENDING orbits only)
---
This tutorial will describe the processing of Sentinel-3 SLSTR L1 images to generate a Hot spot map for the two input Sentinel-3 acquisitions on the GEP.